ASEAN-Japan Cybersecurity Capacity Building Center Featured in the Global Forum on Cyber Expertise (GFCE) Magazine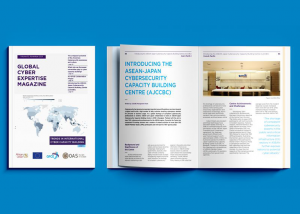 06 May 2022
-
Global Forum on Cyber Expertise (GFCE) magazine provides cyber policymakers and stakeholders insight on cyber capacity building projects, policies, and developments globally.
ASEAN-Japan Cybersecurity Capacity Building Center (AJCCBC) was featured their content in the Volume 10 of GFCE magazine and LinkedIn post to share the success and experience as a collaborative cybersecurity initiative between ASEAN and Japan.
The AJCCBC is supported by the Government of Japan through the Japan-ASEAN Integration Fund (JAIF).