ASEAN-Japan Ministerial Meeting via Video Conference, 9 September 2020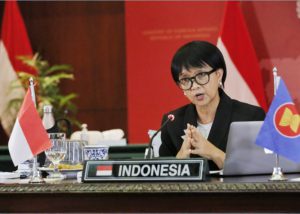 09 September 2020
-
Remarks by H.E. Retno Marsudi, Minister for Foreign Affairs of Indonesia in ASEAN-Japan Ministerial Meeting.
H.E. Retno Marsudi opened her remarks by welcoming Minister Motegi on his first official ASEAN Meeting. She continued by expressing Indonesia's appreciation to His Excellency Prime Minister Shinzo Abe for his important role during the evacuation of the Indonesian nationals from Yokohama. The Minister acknowledged that the pandemic has hit both ASEAN and Japan's economy hard even harder than the Asian Financial Crisis, thus both entities has to work together to address the pandemic and recover economies.
Acknowledging Japan as the ASEAN's second largest  investor and fourth largest  trading partner, the businesses linkages and regional supply chain are highly interdependent. Therefore ensuring continuity of business interactions will be crucial in efforts to recover regional economy. H.E. Marsudi appreciates Japan's commitment to support the ASEAN COVID-19 Response Fund as modalities and capacity to expand ASEAN-Japan collaboration further in health sectors. Indonesia looks forward for a positive outcome on the feasibility study on the establishment  of  the  ASEAN  Centre  for  Public  Health  Emergencies  and Emerging Diseases. The minister reiterates that Japan and ASEAN will continue to strengthen cooperation to make the region stable and peaceful amidst this fluid situation and tension including through Indo-Pacific cooperation.
The Feasibility Study on the Establishment of "ASEAN Centre for Public Health Emergencies and Emerging Diseases"  is funded by the Government of Japan through Japan-ASEAN Integration Fund (JAIF).