ASEAN, Japan Reaffirm Commitment to Advance Partnership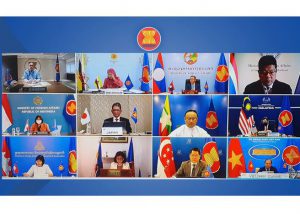 23 March 2021
-
The 15th ASEAN-Japan Joint Cooperation Committee Meeting took place virtually on 23 March 2021, underscoring the commitment of both sides to further strengthen the ASEAN-Japan partnership. The meeting welcomed the substantive progress in ASEAN-Japan cooperation through the implementation of activities under the Implementation Plan of the 2013 Vision Statement on ASEAN-Japan Friendship and Cooperation. Approximately 97% of the action lines under the Plan have been addressed. The two sides exchanged views on development in ASEAN and Japan. Japan highlighted the priority to implement the Joint Statement of the 23rd ASEAN-Japan Summit on Cooperation on the ASEAN Outlook on the Indo-Pacific (AOIP), through conducting practical cooperation in the key areas of the AOIP.
ASEAN appreciated Japan's support towards the establishment of the ASEAN Centre for Public Health Emergencies and Emerging Diseases Centre and contribution to the COVID-19 ASEAN Response Fund. Preparations are being made for the establishment and operation of the Centre which aims to enhance ASEAN's capacity and resilience to future public health emergencies.
ASEAN also acknowledged Japan's continued support for ASEAN's development including its contribution to the Japan-ASEAN Integration Fund (JAIF). The meeting was co-chaired by the Permanent Representative of Viet Nam to ASEAN, Nguyen Hai Bang, and Ambassador of Japan to ASEAN, Akira Chiba, and attended by members of the Committee of the Permanent Representatives to ASEAN and representative of the ASEAN Secretariat.