ASEAN, Japan reaffirm commitment to advance ties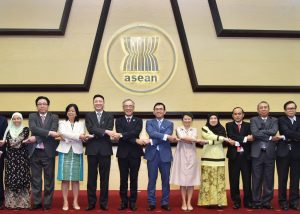 15 March 2019
-
ASEAN and Japan agreed to explore new initiatives for cooperation to further advance their strategic partnership following the 13th ASEAN-Japan Joint Cooperation Committee (JCC) Meeting held at the ASEAN Secretariat on 14 March.
ASEAN welcomed Japan's continued support for ASEAN Community-building including its contribution to the Japan-ASEAN Integration Fund to support cooperation programmes and projects aimed at enhancing connectivity and narrowing development gaps in the region. Both sides agreed to further streamline and provide necessary flexibilities to facilitate the utilisation of the Fund.
The 13th ASEAN-Japan JCC Meeting was co-chaired by Permanent Representative of Viet Nam to ASEAN Tran Duc Binh and Ambassador of Japan to ASEAN Kazuo Sunaga.