ASEAN Socio-Cultural Community Policy Brief: Building Health System Resilience in ASEAN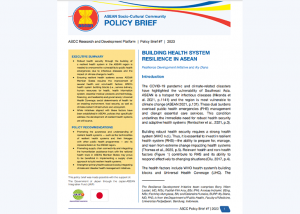 17 May 2023
-
The ASEAN Socio-Cultural Community (ASCC) Policy Brief is a publication of the ASCC Department at the ASEAN Secretariat. It identifies trends and challenges that will impact ASEAN and ASCC sectors and propose policy-relevant solutions and recommendations to uplift the quality of lives of ASEAN people.
The ASCC Policy Brief No. 7 (2023), titled "Building Health System Resilience in ASEAN," discusses ASEAN's progress in developing resilient health systems. It recommends more research and development, supply chain connectivity and resource pooling, and stronger primary health care to improve the ability of countries to deliver the health needs of their population at all times and withstand and respond to future emergencies.
The brief identified a number of bright spots. In the area of services delivery, ASEAN has set up the ASEAN Center for Public Health Emergency and Emerging Diseases (ACPHEED) and implemented the ASEAN Regional Capacity on Disaster Health Management Project to improve the capability of health systems to provide health services during public health emergencies, such as outbreaks, pandemics, and disaster events. The ASEAN Medical Device Directive was developed to ease access of countries to diagnostic and life-saving apparatus, machines, instruments, software, and other medical devices.
Read the highlights of the policy brief on The ASEAN Issue page 53 and download the policy brief from here.
This policy brief was made possible with the support of the Government of Japan through the Japan-ASEAN Integration Fund (JAIF).