ASEAN Stands in Solidarity with the Typhoon-affected People in the Philippines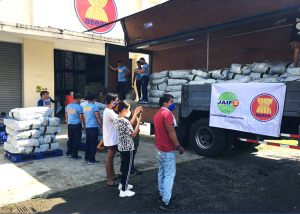 31 December 2021
-
On 16 December 2021, Typhoon Rai (known as Odette in the Philippines) made landfall on Siargao Island in southeastern Philippines, leaving a devastating trail of debris and human casualties in its wake. More than 3 million persons were affected by the disaster, resulting in the over 250 deaths while another 568 persons were injured and 47 reported missing.
The ASEAN Coordinating Centre for Humanitarian Assistance on disaster management (AHA Centre) immediately responded to the crisis by mobilising ASEAN relief items stockpiled at the Disaster Emergency Logistics System for ASEAN (DELSA) Satellite Warehouse in Camp Aguinaldo, Quezon City, the Philippines. This mobilisation aimed to augment the government's ongoing efforts to help people affected by Typhoon Rai (Odette) in the Philippines.
A total of 541 shelter repair kits, 275 family tents, 5,000 family kits, 1,000 rolls of tarpaulin, 5,000 personal hygiene kits, and 1,000 kitchen sets were delivered with the support of the Government of Japan through the Japan-ASEAN Integration Fund (JAIF) and Direct Relief.