Calling for Students and Working Adults of Lao PDR for JENESYS 5 Days Online Exchange Program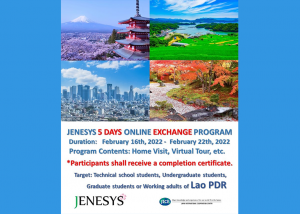 21 January 2022
-
The application for five-day online exchange program is now open. This program is targeted for technical school students, undergraduate students, graduate students or working adults of Lao PDR and will be held on 16 – 22 February 2022 which cover home visit, virtual tour, etc.
The program objectives are to encourage an understanding of Japan's economics, society, history, diverse culture, politics and diplomatic relations, and to promote mutual trust and understanding among the peoples of Japan and the Asia-Pacific region and building a basis for future friendship and cooperation.
Interested participants are invited to register by 2 February 2022 through this link: https://jice-inex.smktg.jp/public/seminar/view/2080
This program is part of the Japan's Friendship Ties Programs JENESYS2021 "Inbound, Outbound and Follow Up Project" supported by the Government of Japan through Japan-ASEAN Integration Fund (JAIF).