Chairman's Statement of The ASEAN Post Ministerial Conference (PMC) 10+1 Sessions with The Dialogue Partners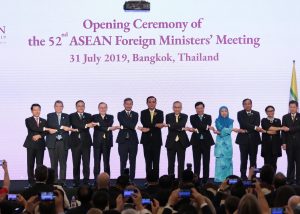 2 August 2019
-
The ASEAN Post Ministerial Conference (PMC) 10+1 Sessions with ASEAN's Dialogue Partners, namely Australia, Canada, China, the European Union, India, Japan, New Zealand, the Republic of Korea, the Russian Federation, and the United States of America were held in Bangkok, Thailand, from 31 July to 1 August 2019.
The Meeting welcomed Japan's continued commitments to supporting ASEAN's integration efforts and reaffirmed the commitment to further strengthen the ASEAN-Japan Strategic Partnership and enhance cooperation through the effective implementation of the Revised Implementation Plan of the 2013 Vision Statement on ASEAN-Japan Friendship and Cooperation and the Joint Statement of the 21st
ASEAN-Japan Summit to Commemorate the 45th Anniversary of ASEAN-Japan Friendship and Cooperation. The Meeting appreciated Japan's continued support and contributions towards ASEAN's development, including the implementation of the IAI Work Plan III through the additional contribution of 1 billion JPY to the component of JAIF 2.0 under the Japan-ASEAN Integration Fund (JAIF) in March 2019 as well as the adaptation of "Tokyo Strategy 2018" at the 10th Mekong-Japan Summit Meeting and expressed their expectation for its reinforcement.