Fostering Greater Understanding, Tolerance and a Sense of Regional Agendas among the Peoples of ASEAN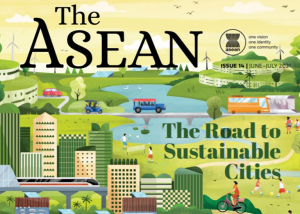 31 July 2021
-
How do we develop and inculcate a sustainable culture of peace, tolerance and greater understanding in the region? How do we incentivise peace-building and development to promote greater understanding, mutual respect, tolerance, and regional solidarity? These were the two guide questions that framed the panel discussion entitled ASEAN High-Level Cultural Forum (HLCF) on Promoting an Adaptive ASEAN Community of Greater Understanding, Tolerance and a Sense of Regional Agendas Among the Peoples of ASEAN. The discussion was held via a video conference on 27 May 2021.
The HLCF was organised by the ASEAN Secretariat in collaboration with the Senior Officials' Committee for ASCC Council (SOCA) Brunei Darussalam as one of the projects under the ASEAN-Japan Cooperation titled Fostering Greater Understanding, Tolerance and a Sense of Regional Agendas among the Peoples of ASEAN. Further, the ASEAN Cultural Heritage Digital Archive (ACHDA), which houses the digital representation of the region's most significant cultural heritage objects, is one of the ways ASEAN can promote intercultural understanding. Both  projects are supported by the Government of Japan through Japan-ASEAN Integration Fund (JAIF) which aim to promote greater understanding and sense of regional identity in ASEAN.
Following the HLCF, the regional policy framework will be further refined. It is being prepared for adoption by the ASEAN Leaders during the 38th ASEAN Summit at the end of the year, as part of the deliverables under the ASEAN Chairmanship of Brunei Darussalam.
Article is available for download on The ASEAN Magazine, Issue 14 June-July 2021, page 45-47.