Four Key Issues Discussed during Meeting of President Jokowi and Japan Prime Minister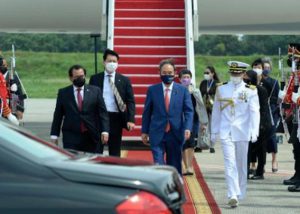 21 October 2020
-
President Joko Widodo (Jokowi) welcomed the arrival of Japanese Prime Minister, Yoshihide Suga to Indonesia on Tuesday, October 20, 2020, in the framework of the bilateral visit.
Amongst a number of topics, President Jokowi appreciated Japan's commitment and contribution to the formation of the ASEAN Covid-19 Response Fund. He then invited Japan to strengthen health governance in the region to deal with future pandemics, including the establishment of the ASEAN Center for Public Health Emergency and Emerging Disease.
The Feasibility Study on the Establishment of "ASEAN Centre for Public Health Emergencies and Emerging Diseases" is currently on-going and supported by the Government of Japan through Japan-ASEAN Integration Fund (JAIF).
Other What's New