Graduation Day of the ACE Programme Sixth Batch 2019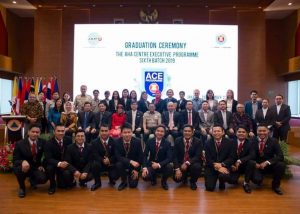 29 November 2019
-
See what happened at the graduation day of our AHA Centre Executive (ACE) Programme Sixth Batch 2019 yesterday!
Congrats to the new 18 graduates from ten ASEAN countries, adding the pool of our future leaders on disaster management into 97 people!
Imagine the friendship and bonding built over 1,000 hours or 5-month intensive programme, held at our office in Jakarta, as well as in Palu, Central Sulawesi, Malaysia, New Zealand, and Japan, involving 19 training partners and 23 courses, adapted and contextualised to ASEAN's needs. It's indeed a unique leadership programme!
The ACE Programme is supported by the Government of Japan through the Japan-ASEAN Integration Fund (JAIF).