Grow Asia Launches USD 6.6 Million Fund to Drive Responsible Investments in Southeast Asia's Food, Agriculture, and Forestry Sector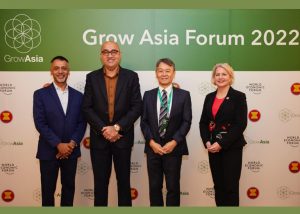 12 December 2022
-
Grow Asia – a nonprofit established by the World Economic Forum and the ASEAN Secretariat to build partnerships for more inclusive, resilient, and sustainable food systems – has launched a USD 6.6 million multi-donor impact fund to drive more responsible investments in Asia's food and forestry sector. The fund, called GrowRight, will support a blend of partner-matching and training programs for investors and policymakers to support the adoption of sustainable finance mechanisms.
"We welcome the launch of Grow Asia's multi-donor impact fund to drive responsible investment in Southeast Asia's agriculture system," says H.E. Satvinder Singh, Deputy Secretary-General for the ASEAN Economic Community. "This work, thanks to support from the Japan-ASEAN Integration Fund and matching funding from Cargill, will help scale the operationalization and impact of the ASEAN Guidelines on Promoting Responsible Investment in Food, Agriculture, and Forestry – a journey we embarked on with Grow Asia and its partners in 2018. We commend Grow Asia's commitment to sustainable, inclusive agriculture in the region, and look forward to seeing the impact and learnings that emerge."
Read the press release of the event here.