JAIF Support for ASEAN Disaster Management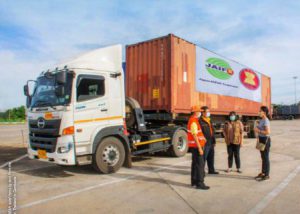 22 December 2020
-
The COVID-19 Pandemic continues to challenge ASEAN Member States, and the disaster management sector repositions itself to determine where it can support ASEAN communities through the region's current response and support mechanisms.
In partnership with the ASEAN Committee on Disaster Management (ACDM), consistent support from the Japan-ASEAN Integration Fund (JAIF) on disaster management in ASEAN has been reflected through flagship programmes implemented by the AHA Centre. Since the AHA Centre's establishment in 2011, based on a shared interest in disaster management, the Government of Japan through JAIF has remained one of the biggest supporters of the regional coordinating agency on disaster management and emergency response, and by extension the ASEAN region that it serves.
More articles on JAIF Support for ASEAN Disaster Management are available on The Column Volume 61 which can be accessed here.