Japan-ASEAN Forum to Work Closely with Covid-19 Response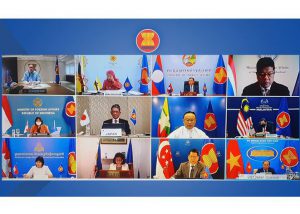 27 May 2021
-
The 36th Japan-ASEAN (Association of Southeast Asian Nations) Forum was held online on May 27th.
The Japan-ASEAN Forum is a framework that is held alternately in Japan and the ASEAN-side coordinating countries, and exchanges opinions at the vice minister level on the relationship between Japan and ASEAN. The forum was attended by co-chairman Takeo Mori, Senior Deputy Foreign Minister, and Vietnam's Deputy Foreign Minister, Nguyen Quoc Dzung.
At this forum, Japan and ASEAN will work closely together to respond to the Covid-19 Pandemic, trade, investment, sustainable development, digital technology, cyber security, disaster management, smart cities, and human resource exchanges. It was agreed to continue to strengthen cooperation in such fields. The ASEAN side expressed its gratitude for the support that Japan has provided to ASEAN in the medical field. The two sides also exchanged views on cooperation for the realization of a free and open Indo-Pacific and the establishment of the ASEAN Centre for Public Health Emergencies and Emerging Diseases for the ASEAN-related summit and foreign ministers' meetings scheduled this year.
A Feasibility Study on the Establishment of "ASEAN Centre for Public Health Emergencies and Emerging Diseases" is supported by the Government of Japan through Japan-ASEAN Integration Fund (JAIF).