Japan's Official Development Assistance (ODA) White Paper 2020: Development Cooperation Topics: ASEAN Centre for Public Health Emergencies and Emerging Diseases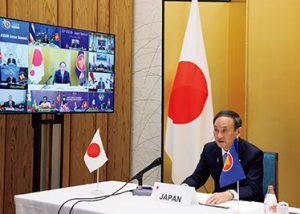 30 May 2021
-
 The new coronavirus infection, which is rampant all over the world, has had a great negative impact on society and the economy in the Indo-Pacific region as well. ASEAN, Japan's longtime partner, is no exception. Even in the ASEAN region, where the number of infected people was low at the beginning of the year, the number of infected people increased explosively in some countries around April 2020, calling for the importance of infectious disease control.
For Japan, whose diplomatic pillar is to promote the "Free and Open Indo-Pacific," supporting the strengthening of infectious disease response systems in ASEAN countries is the cornerstone of its realization, and is Japan's top priority.
Under such circumstances, at the request of the ASEAN Secretariat, Prime Minister Abe (at that time) held the ASEAN + 3 (Japan, China and South Korea) Special ASEAN Plus Three Summit on Coronavirus Disease 2019 (COVID-19) on April 14. Japan has announced that it will strongly support ASEAN with the three areas of strengthening infectious disease control capabilities, the ASEAN Centre for Public Health Emergencies and Emerging Diseases (ACPHEED), and supporting economic resilience.
As a regional core base, the ACPHEED aims to strengthen the ability to prepare, detect, and respond to ASEAN public health crises and emerging infectious diseases. Specifically, ASEAN plans to strengthen surveys on infectious disease outbreak trends and situations, form a lab network, and provide training for infectious disease control personnel. For the establishment of ACPHEED, the Government of Japan contributed about 5.5 billion yen ($ 50 million) to the Japan-ASEAN Integration Fund (JAIF).
Other What's New