JENESYS Japanese Cultural Exchange "Online Tea Ceremony Experience"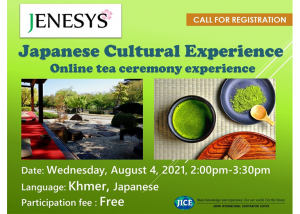 09 July 2021
-
Hosted by JICE, JENESYS is calling university students in Cambodia to experience online tea ceremony. This online event will be implemented to promote mutual trust and understanding among people of Japan and Cambodia to build future friendship and cooperation.
The webinar will take place on Wednesday, 4 August 2021 at 2:00 PM – 3.30 PM (Cambodia time).
The event is part of the  Japan's Friendship Ties Programs JENESYS2020 "Inbound, Outbound and Follow Up Project" supported by the Government of Japan through Japan-ASEAN Integration Fund (JAIF).