JENESYS Online Webinar for High School Students, University Students and Working Adults of Timor-Leste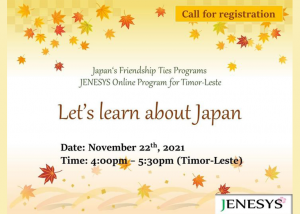 19 October 2021
-
The JENESYS online program will be implemented to promote mutual trust and understanding among peoples of Japan and Timor-Leste. For those who is interested to get to know about Japan and build future friendship and cooperation between the two countries are invited to attend this webinar. The program will be conducted on 22 November 2021 at 4.00-5.00 PM (Timor-Leste time).
For those who are interested can register through this link by 15 November 2021: https://jice-inex.smktg.jp/public/seminar/view/1189
This program is part of the Japan's Friendship Ties Programs JENESYS2020 "Inbound, Outbound and Follow Up Project" supported by the Government of Japan through Japan-ASEAN Integration Fund (JAIF).
Other What's New