JENESYS Online Webinar "Recycling" for Lao PDR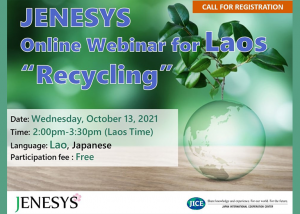 22 September 2021
-
JENESYS (Japan-East Asia Network of Exchange for Students and Youths) online webinar will be convened to promote mutual trust and understanding among peoples of Japan and Lao PDR for future friendship and cooperation. This program is for undergraduate students, graduate students, working adults in Lao PDR. In the program, participants will be able to learn about recycling cans, bottles, and plastic bottles placed in recycle bins of vending machines in Japan. Participants will also be able to observe the recycling process in the factory.
The webinar will be held on Wednesday, 13 October 2021 at 2:00PM -3:30PM (Lao PDR time). Interested participant are invited to register through this link: https://jice-inex.smktg.jp/public/seminar/view/991?fbclid=IwAR1f-0AHHDPiWU_5xVvME94aAfayn6a-1qL9uEqOH-YHKlCHtl6bqyihf-k. The maximum number of participants is 40. Please note that the committee will accept applications in the order they are received and stop accepting applications when the limit is reached.
This online webinar is part of the Japan's Friendship Ties Programs JENESYS2020 "Inbound, Outbound and Follow Up Project" supported by the Government of Japan through Japan-ASEAN Integration Fund (JAIF).
Other What's New