JENESYS Online Webinar "Theme: Environment"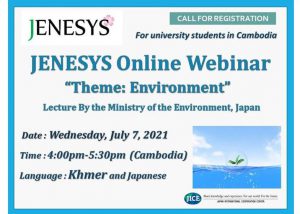 17 June 2021
-
For university students in Cambodia, JICE is hosting lecture by the Ministry of the Environment, Japan focusing on 4R: Refuse, Reduce, Reuse, Recycle. The lecture is part of JENESYS online event that will be implemented to promote mutual trust and understanding among peoples of Japan and Cambodia to build for future friendship and cooperation.
Interested participants may register through following link: https://jp.surveymonkey.com/r/28283W2
The webinar will take place on Wednesday, 7 July 2021 at 4:00 PM – 5.30 PM (Cambodia time).
This event is part of The Japan's Friendship Ties Programmes JENESYS2020 project supported by the Government of Japan through Japan-ASEAN Integration Fund (JAIF).