JENESYS Online Webinar "Theme: Japan's Agricultural Policy"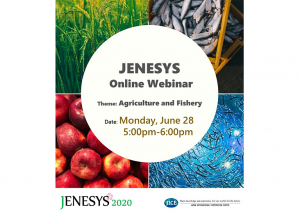 28 June 2021
-
JENESYS2020 had an online lecture for participant of Laos on 28 June 2021.
Mr. ITO Naoki from Management Improvement Bureau, Ministry of Agriculture, Forestry and Fisheries gave an instructive lecture. The lecture was translated into Lao and participants learned about the situation surrounding Japan's agriculture. In Q&A session, participant got the information about the effective use of agricultural land and promotion of primary producers' diversification into processing and distribution.
 The webinar is part of the Japan's Friendship Ties Programs JENESYS2020 "Inbound, Outbound and Follow Up Project" supported by the Government of Japan through Japan-ASEAN Integration Fund (JAIF).
Other What's New