JENESYS Webinar "Public Transportation" for Lao PDR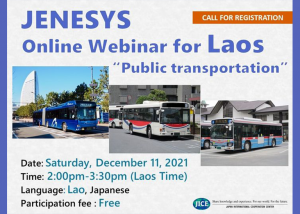 24 November 2021
-
The JENESYS online event will be implemented to promote mutual trust and understanding among peoples of Japan and Lao PDR to build for future friendship and cooperation. This program will discuss about buses, which play an important role in public transportation. The participants will be able to learn about the structure of bus operations in Japan including issues and new initiatives. The webinar will take place on Saturday, 11 December 2021 at 2.00 – 3.30 PM (Lao PDR time).
Interest participants are invited to register by 5 December 2021 through this link: https://jice-inex.smktg.jp/public/seminar/view/1321?fbclid=IwAR1lvVNY9PEzQ_vFVUoofTA4J2YTx8ounLqJnU_DMYQP_UoATMDkuwIpguA
This program is part of the Japan's Friendship Ties Programs JENESYS2020 "Inbound, Outbound and Follow Up Project" supported by the Government of Japan through Japan-ASEAN Integration Fund (JAIF).