JENESYS2020: Japan-Malaysia Host Town Webinar Online Exchange Program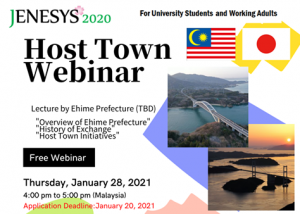 08 January 2021
-
Calling out to university students and working adults! The JENESYS2020 will be hosting an online webinar to promote cultural exchange between Malaysia and Japan's local cities in Ehime prefecture, which are Host Towns for Malaysia in the Tokyo Olympic Games and learn more about the attractiveness of Ehime prefecture. Host Towns refer to local towns in Japan, welcoming athletes from all over the world who are taking part in the Tokyo Games. Those "Host Towns" will build warm friendship with participating countries through grassroots exchanges. Through these exchanges, mutual understanding will deepen, and long-lasting friendship will be developed.
Date of webinar: January 28, 2021
Time: 4:00PM – 5:00PM
Attendants for this webinar may be prioritized for the next JENESYS program recruitment.
The Japan's Friendship Ties Programmes JENESYS2020 is supported by Government of Japan through Japan-ASEAN Integration Fund (JAIF).