Joint Media Statement of the 54th ASEAN Economic Ministers' (AEM) Meeting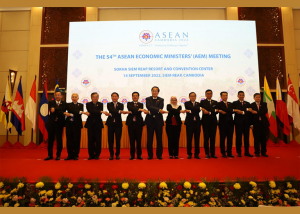 15 September 2022
-
The 54th ASEAN Economic Ministers (AEM) Meeting was held in Siem Reap, Cambodia on 13 – 15 September 2022. The Meeting, which was chaired by Cambodia under the theme "ASEAN A.C.T.: Addressing Challenges Together" was preceded by a preparatory meeting of the ASEAN Senior Economic Officials (SEOM) and joint meetings with the 36th ASEAN Free Trade Area (AFTA) Council, 25th ASEAN Investment Area (AIA) Council, and Consultations with the ASEAN Business Advisory Council (ABAC).
In relation to ASEAN Customs Integration, the Meeting welcomed the finalisation of the ASEAN Harmonised Tariff Nomenclature (AHTN) 2022 and noted that Cambodia, Indonesia, Malaysia, the Philippines, Singapore, and Thailand have implemented the AHTN 2022. The Meeting encouraged the remaining ASEAN Member States to intensify efforts to implement the AHTN 2022 by the end of 2022. The Review of ASEAN Harmonised Tariff Nomenclature (AHTN) 2017/1 which is currently underway is supported by the Government of Japan through the Japan-ASEAN Integration Fund (JAIF).
In terms of Technical Assistance and Capacity-Building, the Meeting expressed ASEAN's appreciation to its dialogue and development partners, including JAIF, for the technical assistance they continue to provide to ASEAN's Community-building efforts. The Meeting looked forward to their continued support and cooperation as ASEAN moves towards a stronger and more resilient ASEAN Economic Community.