Joint Statement of the 9th ASEAN Plus Three Health Ministers Meeting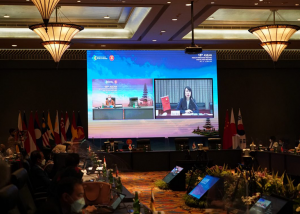 15 May 2022
-
The 9th ASEAN Plus Three Health Ministers Meeting was held on 15 May 2022 in Bali, Indonesia.
The Health Ministers affirming their commitment to continue "Optimising the Mobilisation of Essential Health Resources in Responding to Public Health Crisis". The Meeting discussed and exchanged views on the preparation and response to future health challenges and agreed on some important points, one of which is to increase the utilisation of existing respective Plus Three countries' trust funds by the ASEAN Health Sectoral Body, such as ASEAN-China Cooperation Fund (ACCF), ASEAN Korea Cooperation Fund (AKCF), and Japan-ASEAN Integration Fund (JAIF), and tapping into the identified ASEAN regional funding and resource mechanisms, such as COVID-19 ASEAN Response Fund for concrete actions in COVID-19 recovery and future public health emergencies, including the expeditious FINAL 3 implementation of the ASEAN Comprehensive Recovery Framework (ACRF) and its Implementation Plan.
The full statement can be downloaded here.
Other Whats New