Lao PDR Kicks off Japan-ASEAN Integration Fund Coaching Clinic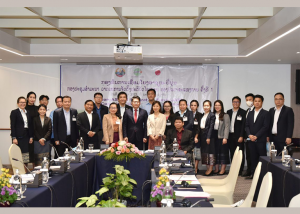 18 October 2022
-
The Japan-ASEAN Integration Fund (JAIF) Coaching Clinic, jointly organised by the Lao PDR Ministry of Foreign Affairs (MFA), JAIF Management Team (JMT), and the ASEAN Secretariat, took place on 18 August in Vientiane, Lao PDR.
The JAIF Coaching Clinic affirmed ASEAN and Japan's commitment to bringing JAIF closer to its stakeholders by holding an in-country workshop-cum-consultation. The participants from various ministries had the opportunity to learn about JAIF's cooperation and gained hands-on knowledge on developing project proposals to effectively implement JAIF projects.
 The one-day workshop was officially launched by Sitsangkhom Sisaketh, Deputy Director-General of ASEAN Department, of the Lao PDR MFA.
For his part, Naoki Minamiguchi, Director of JMT, highlighted an increasingly important role Lao PDR is playing in ASEAN in anticipation of its ASEAN Chairmanship in 2024. He noted that more active formulation of JAIF projects by Lao proponents would contribute to narrowing the development gaps within the region, thereby further enhancing integration of ASEAN.
The 1st JAIF Coaching Clinic gathered about 30 officials from 18 line ministries. In addition to learning about JAIF's cooperation, the participants learned about the ASEAN Development Cooperation programme from Jasper Belarmino Rom of the ASEAN Secretariat, followed by Phetphouthai Vongphouthai of the Permanent Mission of the Lao PDR to ASEAN who briefed the roles and responsibilities of the Committee of Permanent Representative to ASEAN for appraising ASEAN Development Cooperation project proposals.
An article covering this event in local language is also published by the Ministry of Foreign Affairs of Lao PDR.