Launch of ASEAN Cultural Heritage Digital Archive (ACHDA) website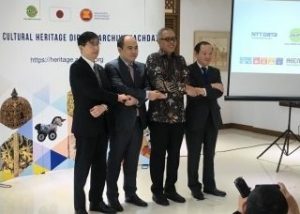 3 March 2020
-
On February 27, the launch of ACHDA website was announced at the ASEAN Cultural Heritage Digital Archive Concluding Forum held at the ASEAN Secretariat in Jakarta.
ACHDA website: https://heritage.asean.org/
ACHDA project aims to support the digitalization of ASEAN's rich and diverse cultural heritages by setting up an online portal for wider public access. The Government of Japan supports this project through the Japan-ASEAN Integration Fund (JAIF). The phase 1 of this project which started in December 2018 has digitalized cultural heritages in Indonesia, Malaysia and Thailand.
Attendees to the forum included H.E. CHIBA Akira, Ambassador of Japan to ASEAN, H.E. Kung Phoak, Deputy Secretary-General of ASEAN for ASEAN Socio-Cultural Community, Mr. Anato Kusuma Seta, Senior Advisor, Ministry of Education and Culture of the Republic of Indonesia and Mr. Tsuchihashi Ken, President and CEO of NTT DATA Asia Pacific. In his opening remarks, Ambassador Chiba stated that it was his pleasure to see the advanced Japanese technology by NTT DATA playing an indispensable role to launch this project, and he hoped the ACHDA Website would enhance interest in ASEAN culture by the people in ASEAN and the world.