Logo and Catchphrase Recruitment for Japan-ASEAN 50th Anniversary of Friendship and Cooperation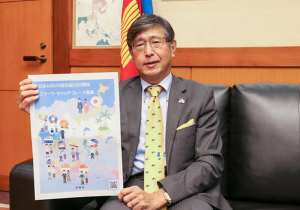 20 May 2022
-
In 2023, Japan and the Association of Southeast Asian Nations (ASEAN) will celebrate 50 years of friendship and cooperation. In conjunction with this, a call has been launched for a logo mark and catchphrase to commemorate the 50th anniversary. On the 19 April 2022, H.E. CHIBA Akira, Ambassador of Japan to ASEAN, gave an interview to the Jakarta Shimbun newspaper. He spoke about Japan's desire to be close to ASEAN.
Ambassador Chiba began by asking, "What is the appropriate name to call the 50th anniversary? He explained that the government office would not come up with a logo or catchphrase, but would like to solicit applications from a wide range of people in Japan and ASEAN countries."
The 40th anniversary celebration 10 years ago also called for entries, and 113 logos and 551 catch phrases were submitted. The winner for logo was a Cambodian and the catch phrase was a Japanese.
Ambassador Chiba said, "This is the 50th anniversary of Japan-ASEAN relations. ASEAN is celebrating its 50th anniversary. However, the relationship between Japan and Southeast Asia can be traced back to 500 years ago, when trade began. Five of these years have been marked by the unfortunate history of war, which should not be forgotten, but in light of this, Japan has stood by Southeast Asia," he said, stressing the importance of the cooperative relationship.
The deadline for submission was closed on 15 June 2022. One winning entry and two runners-up will be selected for the logo and catchphrase, respectively, and the results will be announced in August 2022.