Myanmar hosts project management training for CLMV officers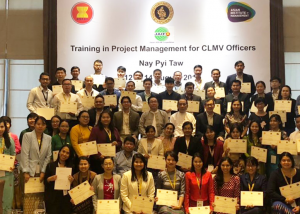 14 August 2019
-
The Ministry of Foreign Affairs (MOFA) of Myanmar hosted the Training in Project Management for Cambodia, Lao PDR, Myanmar and Vietnam (CLMV) Officers on August 12-14 in Nay Pyi Taw.
The training was a joint effort of the ASEAN Affairs Department of MOFA Myanmar, the Permanent Mission of Myanmar to ASEAN, the ASEAN Secretariat particularly the Programme Cooperation and Project Management Division, the Japan-ASEAN Integration Fund (JAIF) Management Team and the Asian Institute of Management (AIM) of the Philippines. It aims to enhance the skills of CLMV officials in project cycle management as well as in developing ASEAN Cooperation Projects.
The training is designed to support the implementation of the Initiative for ASEAN Integration (IAI) Work Plan III, which aims "to assist the CLMV countries to meet ASEAN-wide targets and commitments towards realising the goals of the ASEAN Community." It is supported by the Government of Japan through the Japan-ASEAN Integration Fund.