Parliamentary Vice-Minister for Foreign Affairs NAKAYAMA received a courtesy call from the JENESYS2019 Japan-ASEAN Student Conference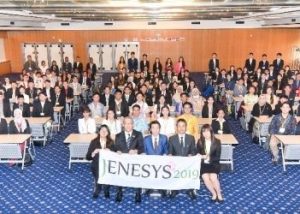 18 February 2020
-
On February 17th, a delegate of 138 college students from ASEAN Countries and Timor-Leste participating in JENESYS 2019 Japan-ASEAN Student Conference paid a courtesy call to Mr. NAKAYAMA Norihiro, Parliamentary Vice-Minister for Foreign Affairs at the Ministry of Foreign Affairs.
In his welcoming address, Mr. Nakayama expressed his great pleasure that the participants have had many meaningful experiences and deepened their understanding of Japan through the exchange programs such as visits to regional cities and exchanges of views under the common theme "What the youths in Asian nations and Japan can do". He hoped the participants will keep contact with their new friends met in this program and each participant will become a bridge between Japan and their countries.
Two students representing the participants expressed their gratitude for having the opportunities to join the program in which they could learn more about Japanese tradition and culture they hoped that the collaborative relationship between Japan and Asian countries will be further promoted and submitted the Declaration of Action to Mr. Nakayama as an outcome of the conference.
At the end of the courtesy call, Mr. NAKAYAMA, guests and the participants took photos together to commemorate the program.
The JENESYS2019 is an exchange programme for the youths of Japan and ASEAN supported by the Government of Japan through the Japan-ASEAN Integration Fund (JAIF).
Other What's New