Permanent Secretary for Foreign Affairs Advocated ASEAN-Japan Cooperation on Public Health and Economic Recovery, Sustainable Development and People-to-People Exchanges at the 36th ASEAN-Japan Forum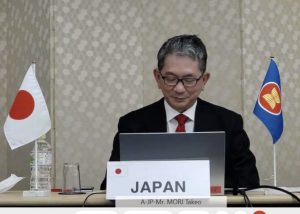 28 May 2021
-
Permanent Secretary for Foreign Affairs of Thailand advocated ASEAN-Japan cooperation through a "3Rs" approach: "Recovery" by promoting cooperation on public health and economic recovery, "Resilience" by promoting sustainable development including BCG Economy and "Relationship" by promoting people-to-people exchanges, human capital development, education and active ageing cooperation at the 36th ASEAN-Japan Forum.
On 26 May 2021, H.E. Mr. Thani Thongphakdi, Permanent Secretary, Ministry of Foreign Affairs, attended the 36th ASEAN-Japan Forum via video conference. H.E. Mr. Mori Takeo, Senior Deputy Minister for Foreign Affairs of Japan, represented Japan at the Meeting.
The Meeting discussed progress on ASEAN-Japan cooperation in several areas, such as COVID-19 responses, security, economic and socio-cultural cooperation. Japan reaffirmed its commitment to contributing USD 50 million for the establishment of the ASEAN Centre for Public Health Emergencies and Emerging Diseases (ACPHEED). Japan also emphasised the need to enhance cooperation on the ASEAN Outlook on the Indo-Pacific (AOIP). A list of activities and programmes under the 4 areas of cooperation on the AOIP, namely maritime cooperation, connectivity, SDGs and economic and other areas, will be announced at the 24th ASEAN-Japan Summit this October.