President Jokowi Calls on Japan to Cooperate with ASEAN to Rebuild Regional Economy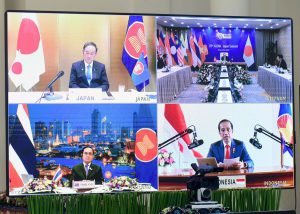 12 November 2020
-
The fight against the COVID-19 Pandemic is far from over; thereby all countries must strive and work together to overcome the pandemic that has greatly impacted the global community and to rebuild the economy without ignoring health protocols, President Joko Widodo (Jokowi) has said. In the summit, the President invited Japan to cooperate with ASEAN countries, considering the great potential of the two parties. According to him, there are two forms of ASEAN-Japan cooperation that can be carried out to rebuild the regional economic condition amid the pandemic.
"The ongoing pandemic has taught us that economic resilience is closely related to health resilience. Improving a resilient healthcare system must be a priority in ASEAN-Japan cooperation," he said. For that reason, the President continued, the development of the ASEAN Centre for Public Health Emergencies and Emerging Diseases is crucial, adding that Indonesia is ready to host the project. Second, both ASEAN and Japan can collaborate to increase strategic trust by creating a situation that is conducive in the region, considering that security stability is a prerequisite for the economic movement.
The Feasibility Study on the Establishment of "ASEAN Centre for Public Health Emergencies and Emerging Diseases" is currently on-going and supported by the Government of Japan through Japan-ASEAN Integration Fund (JAIF).