President Marcos Attended ASEAN-Japan Summit and Expressed Gratitude to Japan for its Response to the Covid-19 Disaster and Acceptance of Filipinos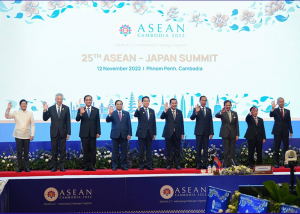 14 November 2022
-
The 25th ASEAN-Japan Summit Meeting was held in Phnom Penh, the capital of Cambodia, on the afternoon of 12 November 2022. Prime Minister Fumio Kishida announced that Japan has provided a total of 29.5 billion yen in financial assistance to ASEAN member countries for the reconstruction of Covid-19 and expressed his intention to continue this assistance in the future. In response, President Marcos said, "The Covid-19 ASEAN Response Fund and the ASEAN Comprehensive Reconstruction Framework (ACRF) depend on Japan's significant support," he said, expressing his appreciation for Japan's contribution.
In the area of disaster management, President Marcos spoke highly of the long-standing cooperation between Japan and ASEAN, particularly Japan's assistance to the ASEAN Humanitarian Assistance Coordination Centre for Disaster Risk Reduction (AHA Centre) through the Japan-ASEAN Integration Fund (JAIF).
At the ASEAN-Japan Summit, it was decided at the suggestion of Prime Minister Kishida to hold a special ASEAN-Japan Friendship and Cooperation Summit in Tokyo next year to commemorate the 50th anniversary of diplomatic relations between ASEAN and Japan.
Similar article also covered in Manila Bulletin