Press Release: ASEAN Stands in Solidarity with the Typhoon-affected People in the Philippines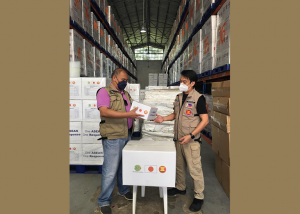 21 December 2021
-
The ASEAN Coordinating Centre for Humanitarian Assistance on Disaster Management (AHA Centre) has mobilised the ASEAN relief items stockpiled at the Disaster Emergency Logistics System for ASEAN (DELSA) Satellite Warehouse in Camp Aguinaldo, Quezon City, the Philippines to augment the government's ongoing efforts to help people affected by Typhoon Rai (Odette) in the Philippines, which made its landfall on 16 December 2021.
Mr. Lee Yam Ming, the Executive Director of the AHA Centre, mentioned that the mobilisation of ASEAN relief items,represents tangible ASEAN's solidarity in the spirit of 'One ASEAN, One Response'. "The AHA Centre has been monitoring the disaster situation in the Philippines since the last two weeks when several weather disturbances were first identified", he said. The Centre activated the Emergency Operations Centre (EOC) when received and gather information about the potential impacts caused by the weather disturbance.
The Establishment of a Disaster Emergency Logistic System for ASEAN (DELSA) – Phase II: Satellite Warehouse is supported by the Government of Japan through Japan-ASEAN Integration Fund (JAIF).