Royal Manuscript from Thailand is now on the ASEAN Cultural Heritage Digital Archive (ACHDA) Website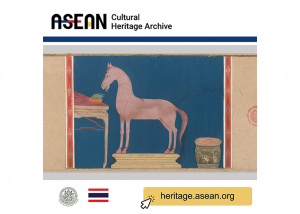 01 July 2021
-
Horses have always played an important role in the past, in war, labor, competitions, etc. Thailand has recorded textbooks to describe the main characteristics of a good horse to select horses for use in each category.
One example is the 'Royal Manuscript on Horse Plan in Poem under Pukam Manuscript' from National Library of Thailand which describes the 7 characteristics of Thai horses and their virtues.
The Royal Manuscript can be seen here: https://heritage.asean.org/view/NLT/NLT_233
The ASEAN Cultural Heritage Digital Archive (ACHDA) project is supported by the Government of Japan through the Japan-ASEAN Integration Fund (JAIF).