Second Project Steering Committee (PSC) Meeting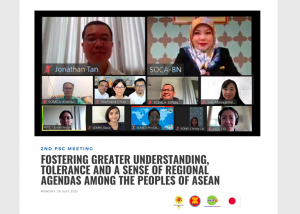 26 July 2021
-
The Second Project Steering Committee (PSC) meeting discusses the draft ASEAN Strategic Policy Framework on Fostering Greater Understanding, Tolerance and a Sense of Regional Agendas among the Peoples of ASEAN.
The meeting was attended by Yang Mulia Hajah Nor Ashikin binti Haji Johari, Permanent Secretary (Community and Culture), Ministry of Culture, Youth and Sports as the Chair of Senior Officials Committee for the ASEAN Socio-Cultural Community Council (SOCA); and joined by Chairs, Vice Chairs and representatives of ASEAN Socio-Cultural Community Sectoral Bodies namely Senior Officials Meeting on Culture and Arts, Senior Officials Meeting Responsible for Information, Senior Officials Meeting on Education, Senior Officials Meeting on Sports, and Senior Officials Meeting on Youth; Officials from the Mission of Japan to ASEAN, JAIF Management Team; Project Consultant and the ASEAN Secretariat.
The meeting also discussed preparations for the upcoming ASEAN Regional Workshop, scheduled to be held early August this year. The Strategic Policy Framework will serve as an overarching document to lend greater coherence and narrative in guiding ASCC's efforts to promote greater understanding, tolerance and to imbue a sense of regional agendas among the peoples of ASEAN.  It will also one of the outcome documents under ASEAN Socio-Cultural Community Pillar to be submitted to the ASEAN Leaders for adoption at the 38th ASEAN Summit.
See also the news article on ASEAN Information Center of Thailand Government Public Relations Department's website: http://www.aseanthai.net/english/ewt_news.php?nid=4102&filename=index