Singapore and Japan Join Forces to Scale up Emissions Accounting in ASEAN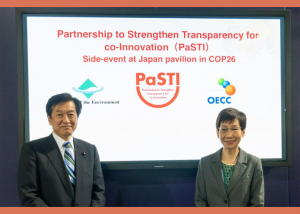 12 November 2021
-
Singapore is joining forces with Japan to lift the standards of emissions monitoring and reporting in Southeast Asia, in an effort to help large emitters in the region cut their carbon footprint and increase their access to green financing schemes. Under the effort, Singapore's National Environment Agency (NEA) will work with the Japan Overseas Environmental Cooperation Centre and other partners to come up with guidelines to help firms better measure and report their greenhouse gas emissions.
This will make up the second phase of the Partnership to Strengthen Transparency for Co-Innovation, which was launched on Friday, 12 November 2021 at the COP26 climate summit in Glasgow. The first phase of the partnership entailed discussions with more than 40 company and governmental representatives to identify the support firms needed in emissions measurement and reporting, and how such a framework can be applied across different countries in ASEAN.
The Development and Implementation of Facility/Company Level Monitoring, Reporting and Verification (MRV) Systems for Greenhouse Gas (GHG) Emissions in ASEAN Member States (AMS) is supported by the Government of Japan through Japan-ASEAN Integration Fund (JAIF).
Related news is also broadcasted by the Channel News Asia https://www.youtube.com/watch?app=desktop&v=J8eAGEEDMt8