Take a Closer Look of Blencong Lantern from Indonesia at the ASEAN Cultural Heritage Digital Archive (ACHDA) Website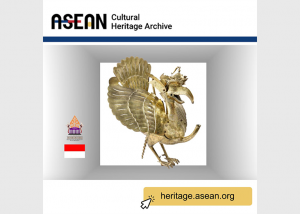 15 March 2022
-
Is it a statue? A religious object? Or a decorative lamp?
This is Blencong Lantern from Indonesia, a heritage object made of bronze. Blencong is a coconut oil-fueled lighting device used for the Wayang Kulit performance. The Garuda shape implies the strong influence of Hindu mythology in the 18th-century Javanese community.
This heritage collection from Museum Wayang Jakarta, Indonesia is part of the digitised cultural heritage items on the ASEAN Cultural Heritage Digital Archive (ACHDA) website.
The ACHDA project is supported by the Government of Japan through the Japan-ASEAN Integration Fund (JAIF).