The 11th East Asia Summit (EAS) Foreign Ministers' Meeting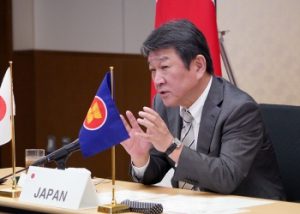 04 August 2021
-
On 4 August, commencing at 8:00 PM for 2 hours and 30 minutes, the East Asia Summit (EAS) Foreign Ministers' Meeting (Chair: Dato Seri Setia Haji Erywan bin Pehin Datu Pekerma Jaya Haji Mohd Yusof, Minister of Foreign Affairs II, Brunei Darussalam) was held in an online format. Mr. MOTEGI Toshimitsu, Minister for Foreign Affairs of Japan, attended the meeting. The overview of the meeting is Response to COVID-19, Regional Situation and Free and Open Indo-Pacific.
During the meeting, Minister Motegi reiterated that Japan's Free and Open Indo-Pacific (FOIP) vision and the ASEAN Outlook on the Indo-Pacific Region (AOIP) share fundamental principles, and announced that Japan will advance specific cooperation in AOIP priority areas that will lead to the further development of AOIP.
Government of Japan provided supports in response to COVID-19 through A Feasibility Study on the Establishment of "ASEAN Centre for Public Health Emergencies and Emerging Diseases" and has been supporting the AOIP through Japan-ASEAN Integration Fund (JAIF) as one of the mechanisms with the implementation of various projects contributing to maritime cooperation, connectivity, SDGs, economic and other possible areas of cooperation.
The Chairman's Statement is available in here: https://www.mofa.go.jp/files/100220788.pdf