The 14th Century Harihara Sculpture on the ASEAN Cultural Heritage Digital Archive (ACHDA) Website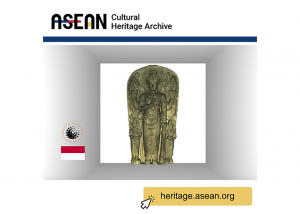 10 February 2021
-
The 14th century Harihara sculpture from Museum Nasional Indonesia depicts a combination of two great gods: Vishnu/Hari on the left, and Shiva/Hara on the right. It was found in Sumberjati Temple (Blitar, East Java), and is thought to be a tribute to Kertarajasa Jayawardhana/Raden Wijaya, founder of the ancient Majapahit Kingdom. Experts have concluded that the sculpture embodies the late king and is the only one of its kind, hence its significant national value to Indonesia.
See the sculpture here: https://heritage.asean.org/view/MNI/MNI_CB1390
The ASEAN Cultural Heritage Digital Archive (ACHDA) project is supported by the Government of Japan through the Japan-ASEAN Integration Fund (JAIF).