The 2nd Regional Workshop on the Implementation of the AHTN 2022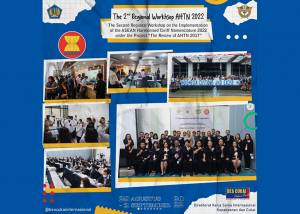 25 October 2022
-
Indonesia hosted the 2nd Regional Workshop on the Implementation of the ASEAN Harmonised Tariff Nomenclature (AHTN) 2022 which was held on 29 August – 2 September 2022 in Serpong, South Tangerang.
The workshop organized by the ASEAN Secretariat and the Directorate General of Customs and Excise (DJBC) is part of the Review of ASEAN Harmonised Tariff Nomenclature (AHTN) 2017/1 project funded by the Japan-ASEAN Integration Fund (JAIF), which aims to encourage the effectiveness of 2022 AHTN implementation and increase the capacity of customs administration staff in ASEAN in the field of classification.
The Workshop was attended by 32 customs administration employees from 10 ASEAN member countries and facilitated by resource persons/consultants from Sri Lanka, Japan, Cambodia, the Philippines, Viet Nam, and Indonesia.
DJBC also opens opportunities for other ASEAN member countries to learn from Indonesia regarding the development and management of customs laboratories or for those who need assistance regarding goods identification.