The 39th Meeting of the ASEAN Committee on Disaster Management (ACDM)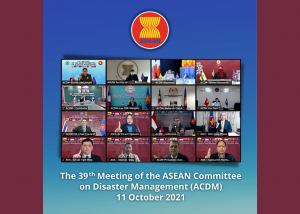 18 October 2021
-
The 39th Meeting of ASEAN Committee on Disaster Management was successfully conducted on 11 October 2021 under the Chairmanship of Singapore Civil Defence Force. The Meeting discussed the implementation of the AADMER Work Programme 2021-2025 to strengthen the future of disaster management in the region.
The AADMER Work Programme 2021-2025 is formulated up until output level to provide flexibility in the implementation phase when developing, mixing and matching inputs and activities. The work programme includes guidance on the implementation mechanisms for activities formulated to achieve the intended output. The development of the Work Programme is supported by the Government of Japan through Japan-ASEAN Integration Fund (JAIF).
The AADMER Work Programme 2021-2025 can be accessed here.