The AHA Centre Supports Typhoon-Affected Areas of the Philippines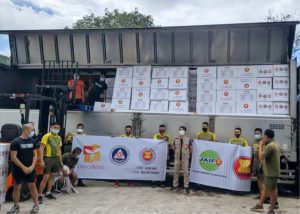 30 November 2020
-
The AHA Centre released a large number of relief items stockpiled at the Disaster Emergency Logistics System for ASEAN (DELSA) Satellite Warehouse in Camp Aguinaldo, Quezon City, the Philippines, to strengthen the government's ongoing efforts to support typhoon-affected communities.
The ASEAN relief items, valued at almost USD900,000, included 2,946 rolls of tarpaulins, 100 shelter repair kits, 1,000 kitchen sets, 5,000 mosquito nets, 5,700 family kits, 5,010 jerry cans, 74 outdoor family tents, and also 1,000 indoor family tents that can be used by affected families inside evacuation centres. This response was the AHA Centre's biggest response to disaster to date in 2020. It also evidenced the value of the DELSA Satellite Warehouse system – developed in 2019 and co-managed by the AHA Centre and the Philippines OCD – supporting the overall speed and accuracy of disaster response for the ASEAN region.
Ms Adelina Kamal, the Executive Director of the AHA Centre, stated that the mobilisation of ASEAN relief items – supported by Japan-ASEAN Integration Fund (JAIF) and Direct Relief – represents the tangible solidarity of ASEAN and the spirit of 'One ASEAN, One Response'.