The ASEAN Guidelines on Promoting Responsible Investment in Food, Agriculture and Forestry (ASEAN RAI) Learning Programme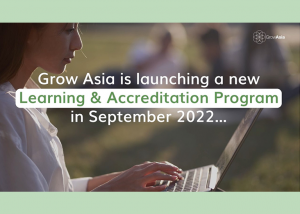 15 August 2022
-
Be the first to join the accredited training program on responsible investment!
With more than $205 billion per year in untapped green investment, the agriculture, food, and forestry sector in Southeast Asia has significant potential to yield Environmental, Social and Governance (ESG) returns. To help realise this potential, Grow Asia is launching the ASEAN RAI Academy – an accredited learning program designed to help professionals from public, private and civil society organisations make more inclusive, responsible, and sustainable investments in the food, agriculture, and forestry sectors.
Watch the trailer here: https://lnkd.in/gnTpqaNr
Learn more about the ASEAN RAI Academy here: https://lnkd.in/dg6PB3Mz
This project on the Creation and Testing of Learning and Accreditation Program to Implement ASEAN RAI Guidelines is supported by the Government of Japan through the Japan-ASEAN Integration Fund (JAIF).