The Column Volume 77 is Out Now!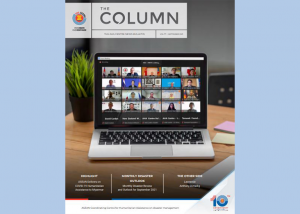 21 November 2021
-
The ASEAN Coordinating Centre for Humanitarian Assistance on Disaster Management (AHA Centre) publishes its news bulletin, The Column Volume 77. In this edition, two participants from the AHA Centre Executive (ACE) Programme Batch Seven shared their experiences in this programme. Ms. Noor Hazmah Rosli from Brunei Darussalam and Ms. Siti Nur Afiqah from Malaysia had the opportunity to sharpen their knowledge and skills to be future leaders in disaster management.
Detailed stories are available on the: https://ahacentre.org/wp-content/uploads/2021/11/The-Column-Vol-77.pdf page 12-15.
The ACE Programme 2018-2020 is supported by the Government of Japan through Japan-ASEAN Integration Fund (JAIF).