True Engine of Growth: Concepcion Lauds ASEAN Leaders for Prioritizing MSMEs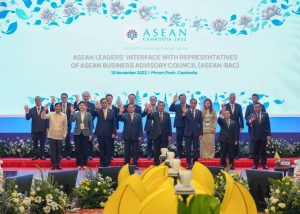 12 November 2022
-
With entrepreneurship as the "true engine" of growth, an economic adviser on Saturday, 12 November hailed the leaders of the ten-member Association of Southeast Asian Nations (ASEAN) for putting micro, small, and medium enterprises (MSMEs) and their digitalisation at the core of the region's economic recovery and progress.
Joey Concepcion, Go Negosyo founder and ASEAN Business Advisory Council (BAC) Chair for the Philippines, said he was elated that the ASEAN leaders recognised entrepreneurship as the key driver of the ASEAN economy, and that helping entrepreneurs would be vital in achieving inclusive growth in the region during the two-day top-level meetings at the ASEAN 2022 Summit in Phnom Penh, Cambodia.
Concepcion said, digitalisation and cooperation are also central to the regional mentorship program called the ASEAN Mentorship for Entrepreneurs Network (AMEN) program, a legacy project of the Philippines's 2017 Chairmanship of the ASEAN, Concepcion said. AMEN aims to share best practices and know-how among MSMEs in the region. With AMEN, MSMEs can learn from other small entrepreneurs and mentors across the region. Mentors can also exchange knowledge and learn from each other on a regional scope.
ASEAN Mentorship for Entrepreneurs Network (AMEN) projects are supported by the Government of Japan through the Japan-ASEAN Integration Fund (JAIF).