University Exchange between ASEAN and Japan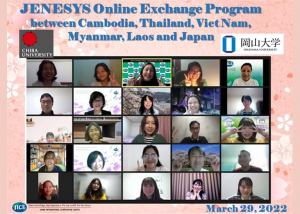 01 April 2022
-
Another online exchange program was held by Japan International Cooperation Center (JICE) on 29 March 2022.
Eighty university students from Cambodia, Myanmar and Lao PDR met Japanese students online.
The participants from Chiba University and Okayama University introduced Japanese fashion, traditional costumes and dance, SDGs, education, traditional performing arts, agriculture, food processing, etc.
Participants asked many questions and deepened their mutual understanding of each other.
It hoped this event become the bridge between the countries.
This program is part of the Japan's Friendship Ties Programs JENESYS2021 "Inbound, Outbound and Follow Up Project" supported by the Government of Japan through Japan-ASEAN Integration Fund (JAIF).