University Exchange: Discover Japan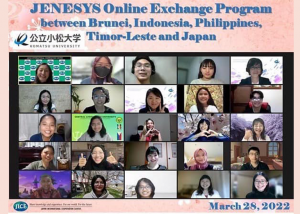 01 April 2022
-
Japan International Cooperation Center (JICE) held an online exchange program on 28 March 2022. University students from Brunei Darussalam, Indonesia, Philippines, and Timor Leste had an exchange with the students from Komatsu University in Japan.
The Japanese students introduced the culture about Japan's four seasons, women's social advancement, martial arts, peacebuilding, and so on.
This program is part of the Japan's Friendship Ties Programs JENESYS2021 "Inbound, Outbound and Follow Up Project" supported by the Government of Japan through Japan-ASEAN Integration Fund (JAIF).