Virtual Project Management Unit (PMU) Meeting to Wrap Up the Project on Promotion of Biomass Energy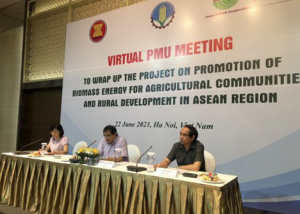 22 June 2021
-
Virtual Project Management Unit (PMU) Meeting to wrap up the project on Promotion of Biomass Energy for Agricultural Communities and Rural Development in ASEAN Region was held on 22 June 2021. The objective of this meeting is to present the achieved outcomes of the project.
The project has three specific objectives, including: (i) to review biomass energy models and practices that could be applied and promoted in the ASEAN region, explore and develop a community-based approach for biomass energy in support of agricultural communities and rural development; (ii) to conduct pilot activities on biomass town and community biomass energy promotion, thus enhancing capacity of ASEAN Member States in biomass energy; (iii) to provide a regional mechanism for knowledge sharing and synergies, and development of policy recommendations for enhancing biomass energy for agricultural and rural development in the ASEAN region.
This project is supported by the Government of Japan through the Japan-ASEAN Integration Fund (JAIF).