Visit the DOOR Prototype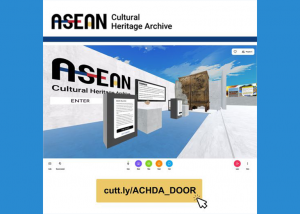 23 September 2021
-
If you miss going to museums, galleries and other public spaces, why not check out the ASEAN Cultural Heritage Digital Archive (ACHDA) virtual exhibition at the DOOR virtual space developed by NTT Data? Visitors can view the Belt Buckle from Malaysia, Prajnyaparamita Sculpture from Indonesia, and Manuscript Cabinet on Pig-legged Stand from Thailand in 3D, while also talking to friends using the voice and text chat features, just like visiting a museum!
Visit the DOOR prototype at https://door.ntt/web/rooms/museum_entrance.html
The  project is supported by the Government of Japan through the Japan ASEAN Integration Fund (JAIF).