Watch Videos of Cultural Performance on the ASEAN Cultural Heritage Digital Archive (ACHDA) Website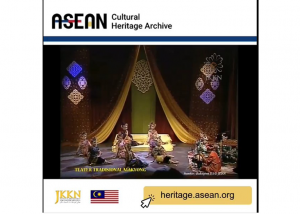 29 January 2021
-
Did you know that you can also watch videos of cultural performances on the ACHDA website?
One of these is the Malay Traditional Theater Makyung (or Mak Yong), a dance drama that combines ritual elements, acting, dancing, music, song, storytelling, and spontaneous dialogue.
The Makyung dance drama is often performed in the Malaysian States of Kelantan, Terengganu, Kedah and Perlis, as well as in Pattani, Thailand and the Riau Islands of Indonesia.
Watch the full video from Jabatan Kebudayaan dan Kesenian Negara at https://heritage.asean.org/view/NDCA/MAKYUNG_MAKYUNG0001
The ASEAN Cultural Heritage Digital Archive (ACHDA) project is supported by the Government of Japan through the Japan-ASEAN Integration Fund (JAIF).